Welcome to our selection of sexy costumes at Simply Delicious. When you think of a costume, the first thing that might come to mind is the last day in October when everyone dresses up in their favorite outfit and celebrate the holiday of Halloween. However, these disguises or getups aren't just for Halloween anymore.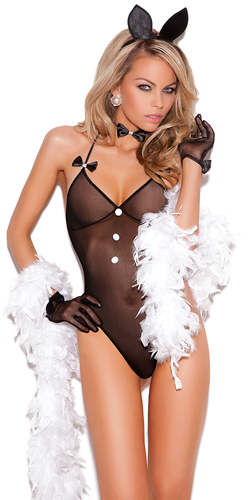 There are so many different sexy costumes out there you can be a different person each day if you wanted. Start the week off as a naughty nurse in your white bustier with matching garter belt and lace topped thigh highs. Tuesday brings Tempting Teachers who will punish those naughty school boys with her trusty ruler. Wednesday wild bartender think short skirt with a plaid tied crop top that barely covers your bust. Thursday is the teasing librarian in a curve hugging short dress and some faux eye glasses. Finally, Friday can be the freaky dominatrix adorned in PVC or vinyl.
Whatever your preference or size, Simply Delicious has a costume for you! Our sizes begin with the one size fits most then range into the plus sizes for lots of options. Our costumes aren't just for women either; your man can find the perfect coordinating outfit here as well. for men. Come on over and browse the wide variety of sexy costumes listed below for your convenience. We invite both men and women and release your inner sex goddess from our seductive collection.
SEXY COSTUMES
Like what you see? Make sure you stop by on occasion and watch our collection of sexy costumes grow!