Welcome to our collection of sexy women's bras at Simply Delicious. It's a wide known fact that undergarments don't get seen very often, which is why so many of us don't take the time to really look for or wear sexy women's bras or other undergarments. Consumers tend to often overlooked them when it comes to style and comfort. Some of the most successful women believe that their attitudes are set by how they are dressing and that includes those intimate undergarments.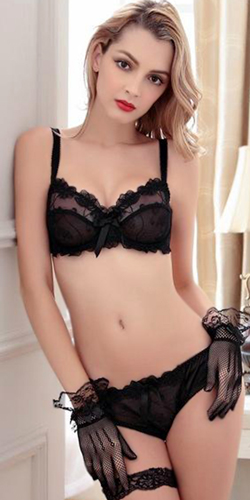 Are you looking for a plus size brasier? We have an incredible selection of sexy plus size bras that are designed to fit and flatter fuller figures. There are many options of bras for the fuller figured woman to choose from.
Even if no one else sees your brassiere, you know that powder blue bra with the black lace detail makes you feel like the sexiest woman in the world and when you wear it your outer attitude shows. A lot of these brassieres come in the form of strapless or backless. They also may feature underwire or a fabulous push-up. Our undergarments can be as simple as a brassiere or panties or as detailed as a garter belt with sexy thigh highs under our professional pencil skirt and white blouse. No matter what you choose the style, the fit, the item remember if you want that sex goddess feel all day long it starts with your underthings. Give yourself some sex appeal and check out our wide selection of bras and other undergarments.
Check out our selections of sexy women's bras below then become dazzled!
SEXY WOMEN'S BRAS
Like what you see? Make sure you stop by again and watch our collection of sexy women's bras to continue to grow!