Welcome to our home of sexy women's corsets at Simply Delicious! Corsets or corselets have always been a popular female undergarment. It can be traced back to the earliest of days when women would wear them to slim their waist line and provide that "girlish figure." You have seen those sexy pin up models rocking those spectacular mind blowing curves thanks to their tight fitting, body forming corsets.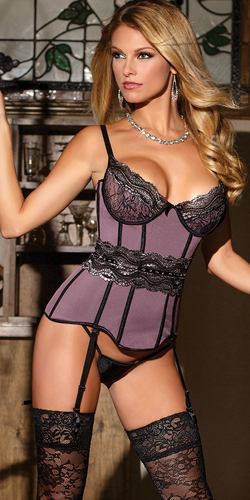 Corsets are stunningly sexy with their bust enhancing bodice and tight laced back, there is just something beautiful about a woman wearing one. Today you can see corsets not only being worn as under garments but as actual clothing items. Simply pair your favorite sexy corset with a solid color under shirt and you have a hip, yet sexy top combination for a night out on the town.
Wow your lover in the bedroom when you strut out in a sexy silk corset and matching G-string or give your bust line that edgy look with the open cup corsets we offer. There are also so many styles from full corsets, to open cups and even bustier styles along with a variety of prints like floral and lace and even see through mesh. You'll also want to check out the selections of burlesque, sequins or leather products we offer. Let's not forget the plus size women out there, we got you covered too!
All these choices and that doesn't even begin to touch on the color options you can pick from. So which one will it be, the one that scream sex star or one that will be used to keep your girlie figure in that hourglass shape? No matter what your tastes we have something for you, just click on one of our selections below.
SEXY WOMEN'S CORSETS
Simply Delicious is known for it's best selections of lingerie. Make sure you stop back here soon and explore our growing selection of sexy women's corsets.