Description
A definite shop-stopper, she'll love to twirl in this classic Lace Tulle Fluffy Flower Girl Dress. It goes without saying that white/cream lace and tulle flower girl dresses are always amazing.This tulle scoop neck dress is made of lace, satin, ribbon and tulle. It has a waistline of beads with a satin bow-tie sash around the back that flows down the backside of this dress.As a bride, you geeked about the 'big event,' nonetheless when the rest of your wedding planning gets you all stressed out, take a break and search for cute flower girl dresses to remind you just how fun your wedding is going to be. Your wedding photos will turn out amazing and everyone will look their absolute best, especially if the flower girl is happy in her princess dress.
Sizes 2T, 3T, 4T, 5T, 6T, 7T, 8T, 9T, 10T
White, Beige, Ivory & Champagne Colors
Ball Gown Silhouette
Short Sleeve
Tulle Fabric
Floor-Length Hemline
Jewel Neckline
Cap Sleeve
Cute, Fluffy & Puffy
Beaded
Lace Detail
To keep updated on cheap and affordable bridal pieces like the Lace Tulle Fluffy Flower Girl Dress or any other sexy women's bridal gowns, please follow Simply Delicious on Facebook or Twitter. You are also invited to return to our website to keep up to date with all the latest styles and fashions that will come in.
Children's size chart: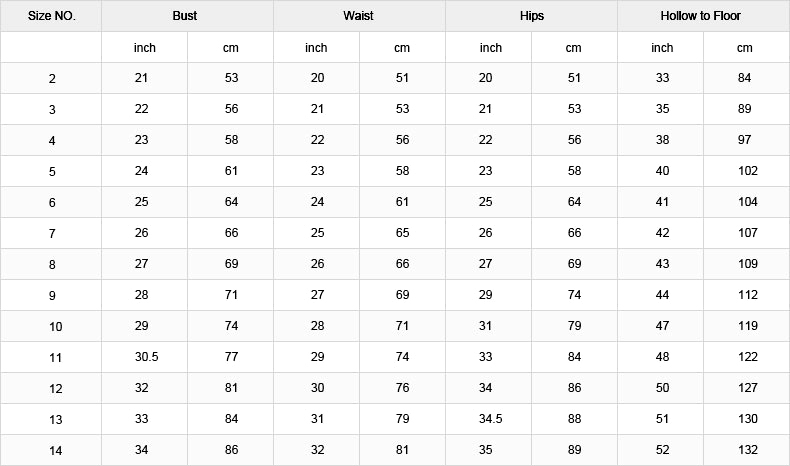 Find the perfect flower girl dresses at Simply Delicious. Our flower toddler dresses come in a variety of styles and colors including lace, satin tulle and so much more. Indulge your little attendant's dreams with princess gowns and flowy a-lines that are just made for twirling! Our inexpensive and affordable collection of unique flower girl dresses, filled with pretty pieces that can also double as Easter clothing, pageant outfits, First Communion dresses, or attire for any other special occasion.
Do keep in mind however that all these dresses are made to order and take a minimum of 60 days from the time the order is placed to arrive. We suggest ordering 90 days prior to your big day for the specific reason that if the gown needs any alterations, you have time to do so. Simply Delicious cares deeply about fulfilling your needs and desires, you will be well taken care of when you order with us. If you have any questions on any of our products, please feel free to contact us at 1-269-205-3699 (Phone). Please leave a detailed message if we are not available so that we can follow up with you, or just reach out to us at simplydeliciouslingerie@gmail.com (email). We will be very happy to take time out to help you find the perfect flower girl dress for children.