Welcome to our bridal gown dress care page. Your wedding day is the most important and most memorable day of your life. It's your day to shine! Simply Delicious knows that your wedding dress is such an important part of your magical. We like to refer to it as an investment and a most valuable keepsake. Whether you want to preserve your dress for the memories or wear it over and over again. We will provide you these maintenance and cleaning tips to help keep your bridal gown as beautiful as the day it arrived. Please follow these bridal gown dress care tips below.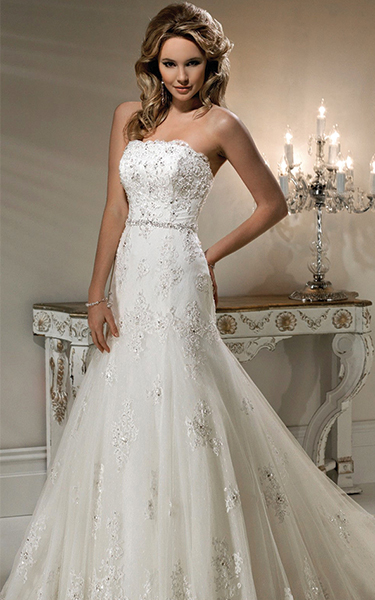 Here's The Overview
All of our dresses are made to custom and accordingly of beautiful, high-quality fabrics. The selections include: chiffon, lace, organza, polyester, satin, silk, taffeta and tulle. These fabrics are very delicate, so with this being said; please…Dry clean only! Many of our gowns are wrinkle resistant.
Why Do We Recommend Dry Cleaning?
Dry cleaning helps colors stay bright and preserves the beauty and sheen of the satin fabrics. Many of our dresses have delicate trim, beading, embroidery or other embellishments that could be easily damaged by machine or hand washing. Dry cleaning minimizes the need to use dryers, irons and steamers to dry or remove wrinkles. Heat can also be quite damaging to the fabric of the dresses.
What to do if your gown gets stained?
Don't panic! Accidents happen, but spills need not ruin your beautiful dress or your night. If treated promptly, many stains can be removed and your dress will be as good as new.
Dry cleaning stains:
All of our dresses are dry clean only.
Take stains to a professional dry cleaner as soon as possible for best results.
We advise telling the dry cleaner exactly what caused the stain so they can treat it properly.
Treating stains at an event:
If a stain happens in the middle of your event, chances are you aren't going to leave your special night to dash off to a 24 hour dry cleaning service. Here's all you need to know to minimize damage and enjoy the remainder with your night. First, don't fret, hopefully the stain can be removed by a professional. Please follow these bridal gown dress care tips for stains:
Dab gently to remove any excess stain. If there is residue, scrape it off with a dull knife. Never rub as that may spread or push the stain deeper into the fabric.
Use a clean white cloth to dab. Avoid tissue or paper towels that could leave a residue.
Don't use soaps or pre-treating chemicals on the dress if you will take it to a dry cleaner later, as the chemicals could react and damage the fabric.
Oil-based stains should be sprinkled with an absorber such as baby powder or cornstarch. Let it sit for 5-10 minutes, then brush off completely and dab with a cloth. Dry clean as soon as possible. Common oil based stains: makeup, grease or butter, deodorant, gasoline or body lotions.
For non-oil-based stains, place a white cloth underneath the stain and dab at the stain with another white cloth dipped in cool water. Common non oil-based stains: juices, coffee/tea, bodily fluids, red wine, mud, ink, baby food/formula.
Soak persistent stains in cool water until they come out (up to 24 hours). Remaining stains should be taken to a dry cleaner.
Don't iron, steam or heat dry stained fabrics because the heat will set the stain.
It's not recommended by us, but if you choose to treat the stains at home there are a few tips that you'll want to know: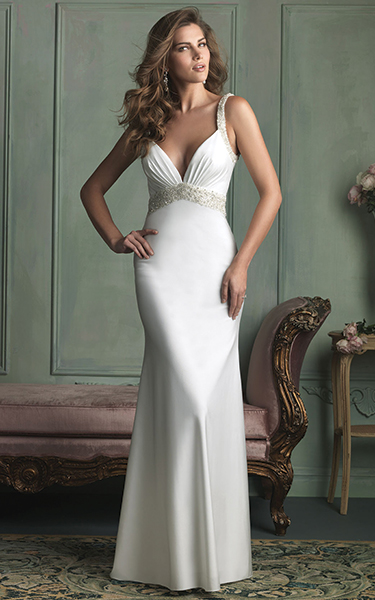 If you do decide to treat a stain yourself, please be extremely careful and gentle, you don't want to ruin your bridal gown. We aren't responsible for stains, rips or tears once it is delivered to you and in your hands. We photograph every gown before it leaves our office and double check to make certain that it is ready for shipment. This is why we are sharing these bridal gown dress care advice.
Remember that any stain removers or detergents you use could react with dry cleaning chemicals. They could damage the fabric should you later decide to have it dry cleaned. While oxygen-based cleaners and gentle detergents can remove some non-oil-based stains from polyesters, oil-based stains are best handled by professional dry cleaners.
Here is a Big No-No: Never use bleach or stain removers with bleach on any our dresses.
Follow all instructions on the stain remover's packaging.
We suggest spot testing the stain remover on an unnoticeable area first.
Mixing stain removers could damage fabric.
Gently dab all excess stain off with a clean white cloth, being careful not to rub it in further.
Place another cloth underneath the stain to catch residue.
Work the stain remover from the edges in so the stain is removed to the wiping cloth and the cloth underneath. Avoid wiping outward and spreading the stain.
Completely rinse all detergent or stain remover from the fabric afterwards.
Once rinsed, roll wet fabric in a towel and then lay flat to dry. Don't twist or wring.
What if my bridal gown is wrinkled?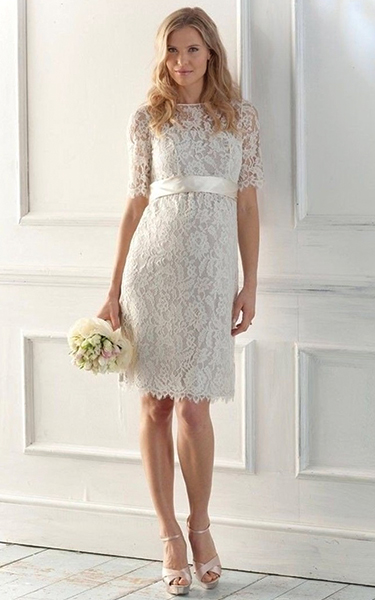 Most of our fabrics don't wrinkle easily, but if they do, hanging the fabric so that wrinkles fall out is often all that's needed. A careful ironing or steaming with low heat can safely smooth out any persistent wrinkles. If the dress still has wrinkles after several hours on a hanger, try hanging it in the bathroom during a hot shower for a gentle steaming. Make sure the dress itself doesn't get wet.
What can I do for bridal gown preservation & maintenance?
Our fabrics are chosen not only for their desired look and feel, but also their quality and durability. With a little care, your wedding dress will stay beautiful through many years and many special occasions. Our bridal gown dress care tips for preservation:
It's always a good idea to dry clean dresses after each wear. Body oils, deodorant residue, sweat, and unnoticed stains left on the dress could set in and discolor the fabric over time
If the dress isn't too heavy, it can hang in a garment bag for several months with no problem.
If hanging a heavier dress, consider draping the skirt over a second hanger to take weight of the shoulder straps.
Wedding dresses heavy with beading or embroidery could start to pull apart if left hanging for many years. Store these flat, ideally in a box with acid-free tissue paper or a white sheet.
Lay flat or roll the dress up instead of folding to prevent creases.
Store or hang in a cool, dry place to prevent yellowing or mildewing over time.
Which fabrics do we use to design our bridal gowns and how do we choose them?
At Simply Delicious Lingerie & Bridal, our dresses are made of beautiful, high-quality fabrics. Our gowns are all hand sewn and custom tailored. We select our fabrics based upon the elegance and luxury of the wedding event itself. Our gowns are extraordinary and we hand select each of them based on a variety of things such as price, materials chosen, and wedding occasion.
How do we detail our bridal gowns?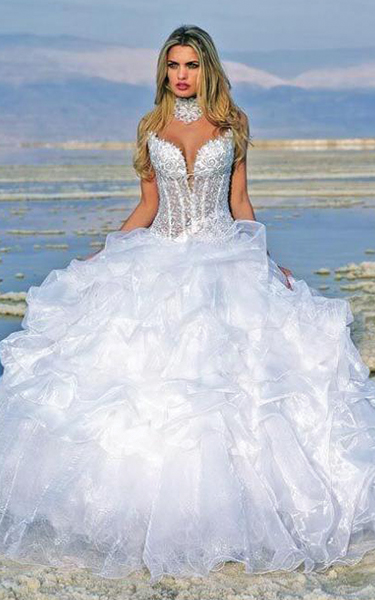 Every gown is made with love just for you! Embroidering a bridal gown takes great skill and an eye for detailed designs. Our dresses feature exquisite embroidery brought to life from patterns and the hands of our many dressmakers. No two dresses are ever the same as we use a variety of beads and sequins in each dress. Also, depending on your size, some dresses will have more details than others.
Ruched detailing is not just decoration for your dress, it can create a figure-flattering silhouette. Our tailors do ruching by hand to create the perfect shape and fullness on each dress to fit your shape like a glove. Hand-sewn appliques' can give a dress that extra detail that takes it from pretty to breathtaking. Our bridal gowns feature appliques' arranged into beautiful designs and attached by hand.
All our dresses are fully lined and structured to hold their shape and to flatter your figure. Our full-skirted dresses use a hard net lining underneath a soft fabric that feels comfortable against the skin. *We do not offer built in petticoats with our gowns that make them flair out in beauty so do order one from our boutique.
Hopefully our bridal gown dress care tips will help you on your special day!
To keep updated on all of our bridal gown dress care subjects, please follow Simply Delicious on Facebook or Twitter.