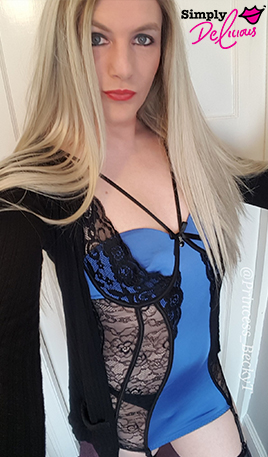 "Beauty is where you find it", a memorable quote from no other than Madonna. We would like you to know that Simply Delicious is a proud friend to the LGBT community. We truly believe that beautiful women come in all shapes, sizes and genders. We are proud to incorporate our fashions for women interested in transgender clothing. That's right, everything from chemises to teddies, to babydolls to mini dresses.
Unfortunately, we don't live in a world yet that t-girl sizes will be included just like plus sizes are readably available today…but we know that day is coming. We understand that it can be difficult finding clothing that fits properly to all your curves and "lady bumps" which is why we have this special section just for you. Here at Simply Delicious, we have size charts adjusted on every product pages to assist you in deciphering a man's size to a women's. Stop by and check out our article on "Tips for Converting Men's Clothing Size to Women's" for even more assistance.
It's a big world out there. So, whether you are a cross dresser, drag queen, female impersonator, tranny or a t-girl, you know we support you, no matter how you identify yourself. We have a line of sexy, comfortable and feminine style clothing and accessories made just for you special "women" out there. Now, you have the option to be as bold and daring as you desire with your attire. Our styles are pretty popular amongst sissies too. So, check out all we have to offer you "special" ladies.
Simply Delicious has a secret code for all you special girls. Use the code "TGIRL15" to receive 15% off all of our fashions. We invite you to take a look at our fabulous selection of transgender clothing below featuring our super model, Princess Becky!
TRANSGENDER CLOTHING
Hey t-girls! Look for us to add more and more transgender clothing in the future. Our sexy lingerie selections are growing and growing and growing. Come back soon!