There was a time when lingerie only provided physical support for those parts of the body that are rather private. Lingerie has a little more to offer these days. Right now, lingeries are serving couples' sexy desires, erotic temptations and sizzles day after day. One of such lingerie is the "Chemises", which has become a favorite lingerie piece due to its versatility.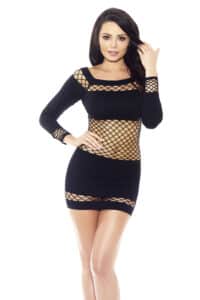 The chemises are among the first undergarments for women. The chemise first appeared in medieval Europe from the Roman tunic. Since then, it has been very popular with women for its soft and comfortable charm. The lack of tight cords makes this a personal favorite among women who want to avoid wearing bras. She just has to put it on to wear it. In fact, 'slips' is another name for this very popular underwear.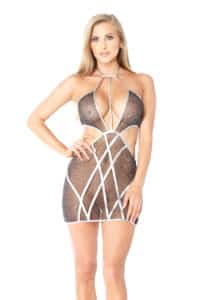 Chemises are available for all types of body shapes. The purpose of these tight-fitting undergarments is to flatten the body to accentuate the curves. They are comfortable and are ideal for women who feel uncomfortable wearing the more sensual bras and thongs. Popular fabric options for making chemises include satin, chiffon, and silk. To increase the appeal of these undergarments, they are trimmed with laces, bows, ribbons and appliqués.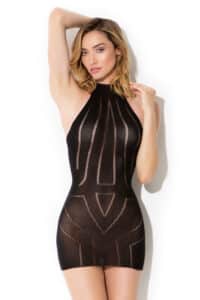 Although the chemise is still used as an underskirt worn under a dress, in the latest trends it is often used as a nightwear or as an erotic and sensual lingerie item. A chemise made of see-through or translucent lace material also looks great and very fashionable when worn over a plain top or bra as club wear or party wear. A huge variety of different styles, materials and colors are the reason that every woman should have a greater number of chemises in her lingerie collection. When used as a nightgown, a chemise can be a full-length garment or a short but loose-fitting garment.
 Another use of it is as a kaftan, on the beach. With the diversity and assortment of chemises, it's all too easy to find one that will look great over your bikini and it won't look like you're wearing a camisole! Only you know you're rocking a piece of luxury lingerie on that beach.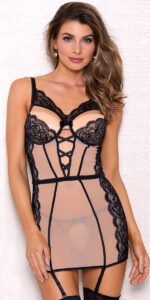 Even though there are many styles and designs of chemises that you can go for, you should choose a solid product that will accentuate your beautiful features. For example, if you're on a honeymoon or just want to spark romance in the bedroom, a well-designed sleeveless chemise can do the trick. This design can fall sexy over your shoulder and make your partner drool in no time. You can also turn the heating up a few degrees in the bedroom by wearing a long chemise that has a hint of lace.
This portrays you as a well-wrapped gift that is not cheap, but very easy to unwrap. However, if you are new to chemises or are shy by nature, you can soften the look of your chemise with a matching robe. As a result, you also create a touch of mystery, playfully seduce your partner and enjoy a romantic night. Finally, if you have nice shoulders, then a sleeveless chemise with spaghetti straps is for you. However, do remember to regulate the length of your undergarments. This will divert your partner's attention to your sexy and well-toned upper body.
Chemises are no ordinary lingerie; they are an important fashion item for every female's wardrobe. You will be amazed at the transformation chemise can perform on your body. Settle for good quality chemises and make sure to work with the different colors to achieve different looks and also create a different feel, setting the intended mood depending on the occasion. Shop Simply Delicious Fashion for all of your stylish intimate apparel needs!