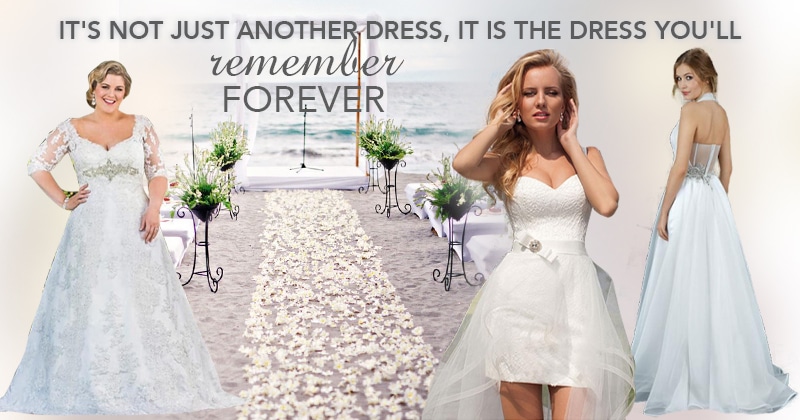 We sell beautiful bridal dresses for under $300. Now, searching for an inexpensive bridal dress is simply just a click away! It's not every day that one gets married. When you say 'yes' you will certainly want to make sure that the wedding dress you choose is absolutely stunning. You want all eyes on you, and boy have wedding dresses changed their looks!
When a woman is planning her wedding, so many things run through her head such as; I need to find a church. I need to lose weight. I need to choose a hair-do. I need to find a venue. I need to pick out beautiful flowers, nevertheless, the most pertinent question of the day is "how and where do I find the perfect wedding dress? How much do I spend on my bridal gown?"
Our bridal selection wedding gowns includes long ball gown styles to a more form fitting mermaid style wedding dresses and so much more. Sleeved, sleeveless, detachable gowns, jackets, wraps, off the shoulders, beach bridal gowns, high necklines and sweetheart necklines. Short, long, high-low, knee length, maternity dress, or plus size. Regardless of your shape or size, we have a bridal gown for everyone, nonetheless do keep in mind that we have a strict no return/no refund policy as the bridal gowns that we purchase from vendors globally are made to order and it is their policy that we must inforce.
At Simply Delicious Fashion we work really hard to offer a top-notch variety of bridal dresses for your wedding day. Over the years we have realized that most modern day women nowadays want to go inexpensive. Why is that you wonder? There are too many other things that they need for their future and a wedding dress shouldn't have to cost them an arm and a leg. In all honesty, isn't it all about the look after all?
If you happen find a gorgeous wedding dress at an inexpensive price, who is going to know, and honestly, why should anyone care? In the past 4 years we've really tried to find what women want as opposed to what women need. We have found that most women love spending less on their dress.  If you are in search of beautiful bridal dresses under $300, we offer the best sought out and most loved bridal gowns and we've added them to our Simply Delicious Fashion  
Women choose venues all over so we want you to be able to select the perfect dress for your location. Regardless of if it is in a church, outside at a park, at the beach, on a cruise ship or you are eloping to Las Vegas you can find a dress that fits your needs.
On a sidenote; If you are looking to have a memorable, beautiful and simple wedding in Las Vegas, reach out to Gypsy Mobile Minister for assistance with your wedding. Joelle Righetti is my cousin and she offers specialty ceremonies and she performs marriages daily at a variety of hotels on the strip, therefore, please visit her website and view her wedding packages. She is awesome, and she is booking up fast. Joelle even married Faith Evans and Stevie J when they decided to elope!