Welcome to Simply Delicious menswear selections, where we highlight the very best in sexy men's clothing. While you may have thought our website caters to women only, that is incorrect. We believe that men need just as much attention as females when it comes to finding sexy swimwear, costumes and other apparel. Even though most men don't show it as much as women do, they still care very much about their appearance and clothing choices. Which is why we say don't worry boys we have not forgotten about you!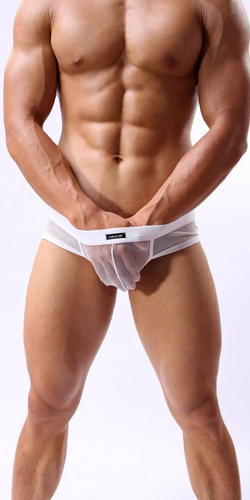 We have a special section set aside of sexy men's apparel and garments just for you handsome men out there. be sure to check out our collection of men's leather and vinyl for a special surprise. We also offer tempting men's costumes like a cowboy, fireman, pimp, or submissive slave in a fun and erotic vinyl costumes. Here you will also find a wide variety of men's underwear from silky boxers to butt hugging cotton briefs there is something for everyone. Come browse the "virtual racks" until you find that perfect outfit, with a wide range of sizes (from small through plus size options), colors and fashion styles you are sure to find exactly what you are looking for. Why should women have all the fun shopping and getting sexy apparel?
Check out our collection below of sexy men's clothing. Just click on the text or picture that you have interest in.
SEXY MEN'S CLOTHING
Please come back for more! We are a growing company at Simply Delicious. Make sure you bookmark this page and return for all the very best in our sexy men's clothing.