Description
Guaranteed to bring the wow factor, the A-Line Lace Chiffon Wedding Dress with Detachable Skirt is sure to be a success on your special day. This stimulating bridal dress is a two-in-one! Put these two together for a classic elegant look with a little glamour and sass! When it comes to wedding planning having a clear vision of your overall day and your look is super crucial to finding 'the dress.' Start with honing in on your personal style…research what styles, fabrics you like the most. Remember to keep the date and place of your wedding in mind. Indoor, outdoor? Formal, less formal? It is sleeveless and this two piece set offers a zipper back with chiffon fabric and lace details. The A-Line Lace Chiffon with this Detachable skirt/train is the wow factor and the perfect choice for you on your most special day of your life.
Whether it be a removable train, a removable skirt, or simply two different dresses all together for ceremony and reception, we absolutely love the idea of having two looks in one day! After all, it's your special day, and you do only get married once!
Sizes 2, 4, 6, 8, 10, 12, 14, 16, 16W, 18W, 20W
White, Ivory & Champagne Colors
A-Line Silhouette
Chiffon Fabric
Lace Detail
Detachable Train
Two Piece Set
Sweetheart Neckline
Sleeveless
Zipper Back
Empire Waistline
Built-in Bra
Applique
To keep updated on cheap and affordable bridal pieces like the A-Line Lace Chiffon Wedding Dress with Detachable Skirt or any other sexy women's bridal gowns, please follow Simply Delicious on Facebook or Twitter. You are also invited to return to our website to keep up to date with all the latest styles and fashions that will come in.
Size chart to assist your needs: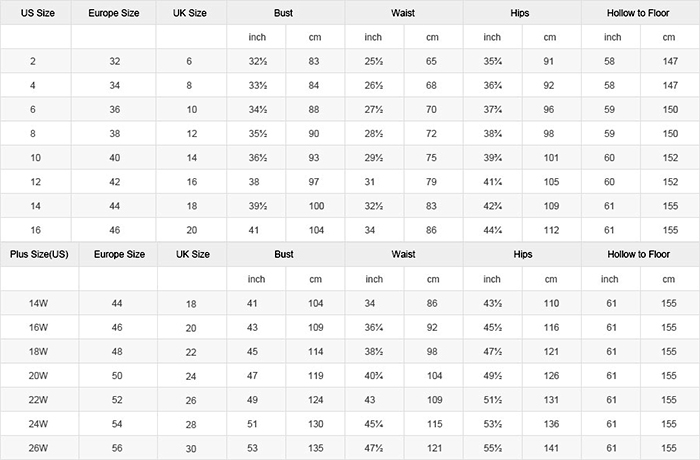 There is nothing better than finding your dream wedding dress, is there? That's why we stock our bridal selections with incredible designs for the bride on a budget. Simply Delicious has wedding dresses for all body types from lace wedding dresses to simple wedding dresses, petite and plus size wedding dresses to beach wedding dresses. There is truly something for everyone. Our collection of bridal gowns covers every bridal style – including dramatic mermaid silhouettes, a-line dresses, classic bridal ball gowns and short wedding dresses. Discounted wedding dresses are a welcome sight amidst the long list of expenses that go into your wedding day.
Do keep in mind however that all wedding dresses are made to order and take a minimum of 60 days from the time the order is placed to arrive. We suggest ordering 90 days prior to your big day for the specific reason that if the gown needs any last minute alterations, you have time to do so. Each dress is custom made to your shape, and size. Simply Delicious cares deeply about fulfilling your needs and desires, you will be well taken care of when you order with us. If you have any questions on any of our products, please feel free to contact us at 1-269-205-3699 (Phone). Please leave a detailed message if we are not available so that we can follow up with you, or just reach out to us at simplydeliciouslingerie@gmail.com (email). We will be very happy to take time out to help you find your dream wedding dress.