Description
Picture your guests' reactions when you arrive in this show-stopping A-Line Organza Lace Vintage Long Wedding Dress. When you walk down the aisle in this elegant long train dress you will feel like a million bucks! This is the dress for you! This bridal gown is light and airy, as it flows in the beach breezes! The vintage style embodies your figure and its alluring beauty is what will steal your heart and be the stunner you're seeking. Strapless and with beautifully hand sewn rhinestone embellishments, this dress is made with the bride in mind wholeheartedly. The long train is graceful and captivating. If your passion is finding the dress to complete your perfect wedding day, this dress is going to be out of this world. You will look and feel sensational wearing this glorious piece. Why not choose this dazzling dress? You can also accessorize it with gloves, or a veil to add to the wow factor.
Sizes 2, 4, 6, 8, 10, 12
Off White Color
A-Line Silhouette
Vintage Style
Organza Fabric
Lace Detail
Satin Material
Court/Long Train
Off-Shoulder Neckline
Sleeveless
Lace-Up Back
Built-in Bra
Rhinestone Appliques
To keep updated on cheap and affordable bridal pieces like the A-Line Organza Lace Vintage Long Wedding Dress or any other sexy women's bridal gowns, please follow Simply Delicious on Facebook or Twitter. You are also invited to return to our website to keep up to date with all the latest styles and fashions that will come in.
Size chart to assist your needs: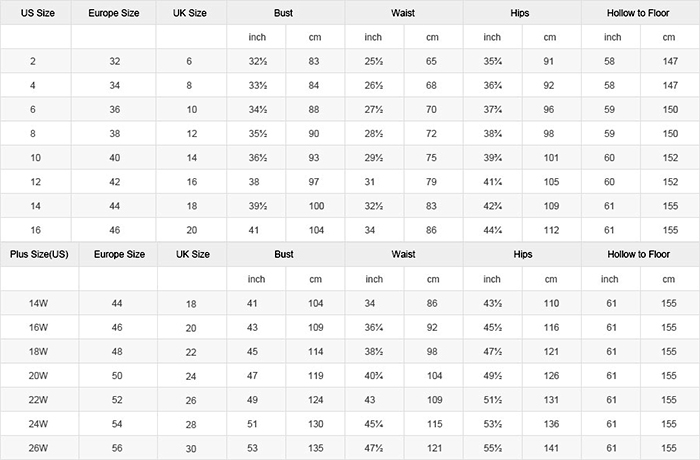 There is nothing better than finding your dream wedding dress, is there? That's why we stock our bridal selections with incredible designs for the bride on a budget. Simply Delicious has wedding dresses for all body types from lace wedding dresses to simple wedding dresses, petite and plus size wedding dresses to beach wedding dresses. Ideal for courthouse weddings, vow renewals and warm, outdoor venues. There is truly something for everyone. Our collection of bridal gowns covers every bridal style – including dramatic mermaid silhouettes, a-line dresses, classic bridal ball gowns and short wedding dresses. Discounted wedding dresses are a welcome sight amidst the long list of expenses that go into your wedding day. Do keep in mind however that all wedding dresses are made to order and take a minimum of 60 days from the time the order is placed to arrive. We suggest ordering 90 days prior to your big day for the specific reason that if the gown needs any alterations, you have time to do so. Simply Delicious cares deeply about fulfilling your needs and desires, you will be well taken care of when you order with us. If you have any questions on any of our products, please feel free to contact us at 1-269-205-3699 (Phone). Please leave a detailed message if we are not available so that we can follow up with you, or just reach out to us at [email protected] (email). We will be very happy to take time out to help you find your dream wedding dress.