Description
Forgo the traditional dress and walk down the aisle in this flattering Satin Jumpsuit Wedding Dress with Detachable Skirt. Wowza! This jumpsuit  piece comes complete with an empire waist and an detachable skirt is simply perfect for your big day or even to wear for your rehearsal dinner. This stunning duo offers up a dramatic train for a surprise moment when all eyes will be on you! It is elegant and beautiful. Women buying pantsuits for their wedding day is a big thing now and every dy more and more women are leaning towards this idea. Adding a touch of femininity, this is the dress for you on your day to make memories!
This modern suit romance is captivating to say the least. If you are a modern bride that loves the look of a pantsuit then this is your year to shine! This is going to be super trendy in 2019/2020 as well, nonetheless we are about to see it reinterpreted in a sweet and feminine way. Up until now, we have seen many of these suits bit this one really elevates the look making it feel more interesting and romantic. Such a statement piece for your bridal look!
This exquisite pant suit can be worn on your wedding day and is also a fabulous prom dress idea for those of you still and school and not thinking yet about your wedding day but prom night!
Sizes 2, 4, 6, 8, 10, 12, 14, 16, 16W, 18W, 20W, 22W, 24W & 26W
White, Red, Black, Ivory & Champagne Colors
Convertible Skirt
Sheath/Column Silhouette
Sweetheart Neckline
Sleeveless
Strapless
Empire Waistline
Zipper Back
Floor-Length Train
Satin Fabric
Built-in Bra
Large Bow Waist
To keep updated on cheap and affordable bridal pieces like the Satin Jumpsuit Wedding Dress with Detachable Skirt or any other sexy women's bridal gowns, please follow Simply Delicious on Facebook or Twitter. You are also invited to return to our website to keep up to date with all the latest styles and fashions that will come in.
Size chart to assist your needs: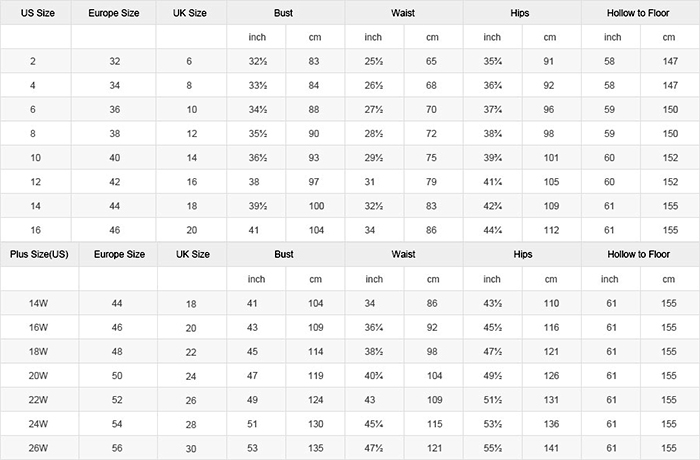 There is nothing better than finding your dream wedding dress, is there? That's why we stock our bridal selections with incredible designs for the bride on a budget. Simply Delicious has wedding dresses for all body types from lace wedding dresses to simple wedding dresses, petite and plus size wedding dresses to beach wedding dresses. There is truly something for everyone. Our collection of bridal gowns covers every bridal style – including dramatic mermaid silhouettes, a-line dresses, classic bridal ball gowns and short wedding dresses. Discounted wedding dresses are a welcome sight amidst the long list of expenses that go into your wedding day.
Do keep in mind however that all wedding dresses are made to order and take a minimum of 60 days from the time the order is placed to arrive. We suggest ordering 90 days prior to your big day for the specific reason that if the gown needs any last minute alterations, you have time to do so. Each dress is custom made to your shape, and size. Simply Delicious cares deeply about fulfilling your needs and desires, you will be well taken care of when you order with us. If you have any questions on any of our products, please feel free to contact us at 1-269-205-3699 (Phone). Please leave a detailed message if we are not available so that we can follow up with you, or just reach out to us at simplydeliciouslingerie@gmail.com (email). We will be very happy to take time out to help you find your dream wedding dress.